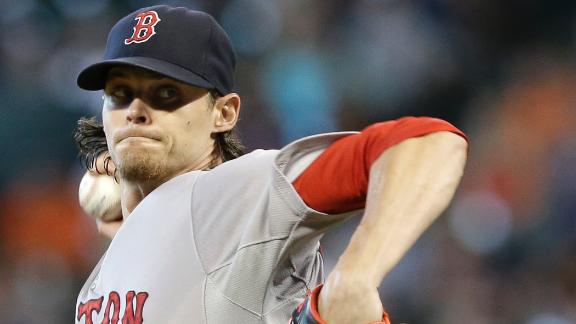 I don't want to get too excited about the Red Sox taking 2 out of 3 games from the Astros. The Astros are a bad team. They were historically one of the worst major league teams of all time last season. They were an experiment by owner Jim Crane to see how he could fleece the system by building a spectacular loser on a $26 million payroll and pocketing record profits. They've nearly doubled their payroll, but it's still about 20% of the Dodgers payroll. Winning a series against them should be par for the course. There are still a lot of positives you can look at from this series and feel good about going into the All-Star break.
Clay Buchholz has looked better since his return to the starting rotation, but his start yesterday was his first truly dominant performance this season. He held the Astros to just 3 hits and no walks in a complete game shut out. This has to be a great confidence builder for Buchholz who has had some serious struggles this year to the point of taking a DL stint to try and work out the kinks. If he's regained his form from early last season he could be an important part of turning this team around. He'll be taking the ball in the first game back from the break against the Royals.
Brock Holt has been a godsend. Holt's family was in the stands for these games as they live in Texas. Every time he would come up with a hit the cameras would show his family celebrating. They got a lot of air time as Holt went 10 for 15 with a walk, a double, a triple and a home run in this series.
Christian Vasquez also feasted on Astros pitching. He was 5 for 8 with 3 doubles and 5 RBIs in this series. An impressive debut for the young catcher. He's making it easy to say goodbye to AJ Pierzynski.
Daniel Nava's numbers have been steadily climbing since he came back up from Pawtucket. His average bottomed out at .134 on June 6th with an OBP of .228. Since then he's managed to pull both numbers up over 100 points to .238 BA and .330 OBP as it stands right now. He also got his fill from the Astros going 4 for 9 in the series. If Nava's bat is back, which I am hopeful that it is, it could be another big piece in helping this team turn the corner on the season.
Call me an optimist, but a lot of the pieces of this team seem to be clicking at the moment. They're still a last place team that has a large hole to dig themselves out of, but I also know that this team has the talent and a heart of a champion. The whole vibe of the team feels different since AJ Pierzynski left. I don't want to give up on this team. They have 13 games (7 against the Blue Jays, 3 against the Rays) before the trade deadline to show the fans and the front office that they have what it takes. If they can win at least 9 of those games I think you have to give them a chance. It's do or die time for this team.
-Mike