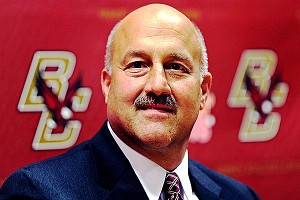 The Captain wrote an article about Boston College Football as their season was winding down last year.
And that's the key to everything: recruiting. BC needs to recruit regionally, in New Jersey and Pennsylvania, and even in Ohio's prestigious Catholic schools. Matt Ryan went to school in PA. William Green was from New Jersey. Mark Herzlich went to high school in Pennsylvania. Luke Kuechly was from Cincinnati and went to St. Xavier High School. These are the most important players at BC since Doug Flutie and they're from a vast recruiting region.
So BC's success depends on their ability to draw talent from the greater northeast. Along with their ability to keep the relatively small number of talented players produced by New England, in New England. See: L.V. Whitworth, Brian St. Pierre, the Hasselbecks, Derrick Knight.
I agree with the Captain's assessment. College football is all about recruiting. Because of that, I've always seen college football as a stacked game. The system is designed to keep the successful programs successful and generally rewards lackadaisical ethics and academics. Look at Pete Carroll. He broke the rules, won 2 national titles, used that success to get the hell out of Dodge when his rulebreaking finally caught up with him. Do you think that he cares much about these ethical issues while he's hoisting the Lombardi Trophy? He looks happy to me. Reggie Bush doesn't seem to be bothered much by it either. He's in the NFL now, what does he care?
As a college coach, when you're selling your program on a top tier recruit there are a few angles you can approach it from. Steve Addazio can push the fact that BC put an impressive number of players into the NFL. He can point to Matt Ryan and Andre Williams being Heisman Finalists. You can point at Luke Kuechly's All-Pro, Pro Bowl and defensive player of the year season with the Panthers. There are plenty of active first round picks that BC has put into the NFL in recent years: BJ Raji, Anthony Castonzo, Gosder Cherilus, Mathias Kiwanuka, etc. If your goal is to play in the NFL, Boston College can help get you there. Still, if this is what you are looking for there are more prominent programs with a better track record of success. USC topped the list at the beginning of last season with 40 former players in the NFL. BC had 13, which does not crack the top 10.
Previously, BC had been the only game in town if you wanted to play top tier college football in New England, but more recently Connecticut and UMass have created FBS football programs. If you're desperate to go to school in New England and you want to play football at the highest level it is no longer Boston College or bust, you have options now.
When pointing to the history of Boston College football, they have been playing since 1892 and have never won a National Championship that is recognized by the NCAA. Maybe you could point to some losses in the ACC Championship game followed by some appearances in mediocre bowl games that nobody watches? The blowout loss to Arizona in the Independence Bowl last season? Being a member of the ACC gives BC players a chance to show their stuff on nationally televised games against championship caliber competition, but you shouldn't expect to be playing in a national title game and probably not a BCS bowl either. I recognize that the BCS is gone now, but I wouldn't plan on making the 4-team playoffs either.
If you're truly interested in the quality of your education BC boasts an impressive graduation rate among it's athletes and was ranked 31st in the US News National University Rankings. Still, Michigan, UNC, Wake Forest, Virginia, USC, UCLA, Notre Dame, Vanderbilt, Rice, Northwestern, Duke and Stanford all have FBS programs and were higher on the list.
Steve Addazio can sell himself as a head coach. He was part of Urban Meyer's staff when they won two national championships in Florida. He has turned BC's program around in his 1 year as coach. Conversely, they could just go to Ohio State and play for Urban Meyer himself. Steve Addazio has shown a lot of promise and has the program headed in the right direction, but there are many more successful head coaches out there.
Maybe he could sell them on the die hard fanbase and the beautiful weather in Chestnut Hill?
The Captain has pointed out in the past that BC can offer top recruits immediate playing time as an incentive that more established programs would not. This is true, but it can lead to having too many raw, inexperienced players on the field and puts them at a disadvantage.
With all this in mind, I feel that BC is fighting an uphill battle for top recruits. Hence, I was surprised to hear positive news about this upcoming year's recruiting class.
The breakdown looks like this: 30 commits, including two graduate transfers, one ESPN300 member (RB Jonathan Hilliman), three four-star recruits and 19 three-star recruits. The recruits come from 12 different states, led by seven from Massachusetts, six from New Jersey and four from Florida.
Just based on the numbers, it's a big step forward for BC. Consider that the 2013 class had just 17 commitments and included only nine three-star recruits and no four-star recruits. And the year before that, in Frank Spaziani's final full class, the numbers were 17 commits and 12 three-star prospects.
I felt that recruiting was one of the major failings of Frank Spaziani as head coach. They would come up against teams that were flat out bigger, stronger and faster than them and look helpless. This is another positive step in the right direction for the program and seems to hit on a lot of the issues the Captain had mentioned. A heavy drawing from the local talent as well as New Jersey is a strong showing in the northeast. Here's hoping that this wealth of talent translates to greater success on the field going forward.