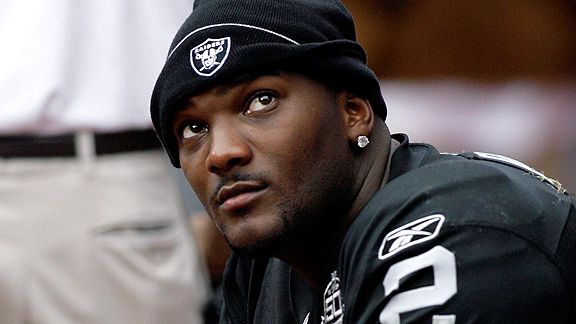 Once again JaMarcus Russell is attempting a comeback to the NFL. He hasn't played since 2009, but recently has dropped his weight from 322 to 308. Yea, I'm not impressed either. How the hell do you play QB at over 300 pounds? This is stupid.
Anyways, he has a bunch of big name guys helping him out (Jeff Garcia, Mike Clayton, and Marshall Faulk). Still, I don't see this happening. There are so many guys that deserve a chance, and not one of them is named JaMarcus Russell. I love him at LSU, but when you are the #1 pick and you decide drinking sizzurp is way better then practicing you don't deserve another chance. I don't believe he is really better, and I think is 308 weight shows just that.
Here is a quick list of the guys the Raiders could've drafted instead of this bum...
Calvin Johnson
Adrian Peterson
Patrick Willis
Marshawn Lynch
Darrelle Revis
Dwanye Bowe
LaMarr Woodley